Sethu Trust was born on 1st June 2005, seeded from a commitment to children. At that time, there was a great need in Goa for a professional yet caring multidisciplinary service to promote the development of children and support parents, teachers and all who care for children to do a better job.
The 3 founder trustees of Sethu were Elvina Menezes, Ameeta Mascarenhas and Sneha Bhandare. In 2005, the professional team also consisted of just 3 people – Dr. Nandita de Souza (developmental pediatrician), Yogita Joshi (special educator) and Anjali Nunes (speech and language therapist). The Sethu Centre was first housed in a compact 2-bedroom apartment in Miramar, Goa, generously offered sans rent by Eric Menezes.

The large number of oreferrals that came through Sethu's doors as well as numerous requests for training programs led to a quick expansion of the team. In addition, the work rapidly outgrew the space and the centre was shifted to a slightly larger 3 bedroom apartment in 2008. Sethu's work continued to grow with community outreach programs such as English is Fun in a Government Primary school and DOST for young people with autism.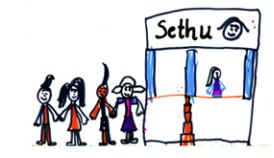 Requests for internships, as well as the need for group therapy to deal with the large number of children with autism who were diagnosed at the centre, led to a second shift in premises in 2014. This time the change was fortuitous as Sethu is now lodged in a rented bungalow surrounded by a garden in the village of Sucorro – serene and green, yet highly accessible, it is located within walking distance of NH-17, the main highway that runs across Goa. Within these 10 years, Sethu's team has expanded to 5 trustees and 10-15 professionals. The seed of commitment to children has grown into a robust tree of service, as Sethu continues to reach up and branch out into research and training.
---